Keto Thanksgiving Recipe Roundup
The holidays have a way of derailing any diet. With a multitude of family & friend gatherings filled with delicious but unhealthy food options, it can be hard to stick to your keto lifestyle. Whether you're hosting this year or just need a side dish to take to your next party, we've got you covered with a complete ketogenic diet Thanksgiving menu.
If you can't bring your own keto-approved dishes, here are some quick tips to help you navigate your events and stay on track:
Eat beforehand so you aren't tempted to go overboard when you arrive.
Fill up on the meat and low-carb veggies.
Stay away from the stuffing and bread rolls.
If you can't completely avoid the dessert, just have a bite or two to taste and set the fork down.
Or throw all this to the wind, eat smart, and pick it back up tomorrow! Don't get too down on yourself for one off-day, life's too short to guilt yourself over food. Give thanks for all you've accomplished so far and just note that you will probably fall out of ketosis and will have to get back in tomorrow. No biggie, been there done that, right!
If you do have time to prepare your own food, here's the roundup of our favorite recipes to make your Thanksgiving delicious and keto-approved!
Spatchcocked (aka Butterflied) Turkey: NomNomPaleo
This is our absolute favorite way to cook the centerpiece meat! Spatchcocking and dry-brining the bird ensures even cooking, juicy meat, and extra crispy skin. Delicious!
Bonus: use the turkey backbone, neck, and giblets to make a delicious and wholesome gravy thickened only with onions or leeks. No flour or corn starch needed for this keto gravy. KaPow!
Low Carb Keto Gravy: Keto Function Adaptation of NomNom's Slow Cooker Gravy 
Ingredients:
Turkey Neck, Backbone, & Giblets
2 tablespoons of butter or ghee (clarified butter)
2 leeks chopped medium (or your favorite alliums)
3 cloves of garlic, peeled
1 tablespoon of tomato paste
1 Teaspoon of Fish Sauce (optional)
1 quart chicken or turkey stock or bone broth
Your favorite poultry seasoning. We like Sunny Paris from Penzy's
Sea Salt and Pepper to taste
Instructions: 
Add butter/ghee to sauce pan until shimmering.
Add chopped leeks, garlic, and tomato paste and saute until soft (about 8-10 minutes).
Season with poultry seasoning and salt and pepper to taste.
Add in 1/4 cup stock to deglaze the pan and transfer all ingredients to a slow cooker or Instant Pot.
Add turkey parts to slow cooker along with remaining stock and fish sauce (if using).
Cook for 4 hours on low or 20 minutes on high pressure in an Instant Pot.
After done cooking, remove and discard turkey parts.
Blend with an immersion blender to make a thick, creamy, and delicious gravy that will take your tastebuds on a trip to umami heaven.
Garlic Parmesan Avocado Mash: Simply Taralynn
Don't be tempted by those carb-loaded mashed potatoes! This cauliflower mash uses parmesan and avocado for a rich and decadent treat!
Keto Macros: 4.3g Fat, 4g Net Carbs, 4.5g Protein
Cheddar Jalapeno Bacon Biscuits: Peace, Love, & Low Carb
This was a  social media sensation so you may have spotted these before. As Kyndra says, these low carb biscuits are what people call "the real deal". You won't be able to put them down and neither will your non keto family and friends. Cheese, Bacon, Jalapenos, 'nuff said.
Keto Pumpkin Pie Cheesecake: Keto Connect
Ok, so that everyday pumpkin pie is probably off limits but not this pumpking pie cheesecake! With only 4 net carbs and 33 grams of fat per slice this is about as keto as it gets. Sure to satisfy your tastebuds and your tummy!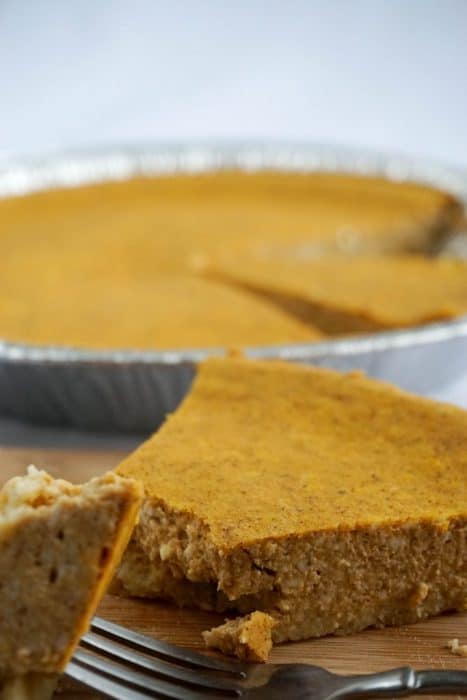 We wish all of you the best this thanksgiving. Let us know how it goes!!